El economista de Stanford que estudia el trabajo remoto dice que la mitad de todos los trabajadores harán este gran cambio en 2022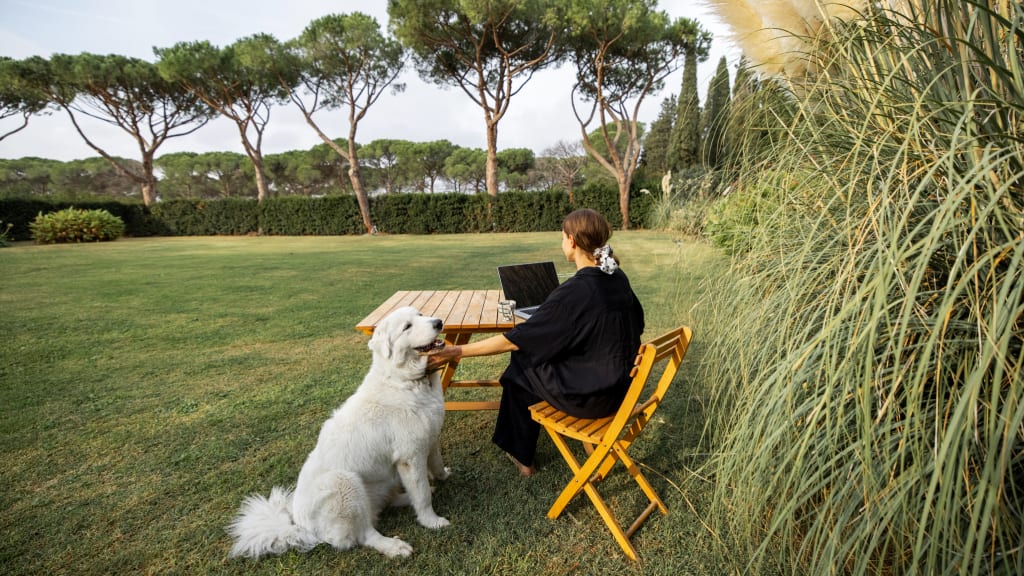 Los economistas que estudian el trabajo remoto y la productividad tenían un gran problema: encontrar grupos de trabajadores para estudiar.
Para hacerlo bien, tenía que identificar a las personas que estaban haciendo exactamente el mismo trabajo y dividirlas en dos cohortes, una trabajando desde casa y la otra trabajando en una oficina.
Un profesor de economía de la Universidad de Stanford llamado Nicholas Bloom y un estudiante graduado llamado James Liang, quien fue director ejecutivo y cofundador de la agencia de viajes más grande de China, encontraron una solución. Utilizaron a los empleados de Liang para la investigación, estudiando a 250 trabajadores del centro de llamadas que trabajaban desde casa y 250 que trabajaban en una oficina.
Escribí sobre su estudio en 2017. En resumen, los empleados que trabajaban desde casa eran más productivos que los que estaban en la oficina. Pero al final del estudio, la mitad de la cohorte que trabajaba desde casa decidió que había perdido la oficina y regresó al menos a tiempo parcial.
Gracias a la pandemia, ya no es difícil encontrar sujetos para este tipo de estudio de "trabajo desde casa". Y Bloom continuó su investigación.
De hecho, escribió recientemente que ahora podemos predecir exactamente cómo se afianzarán en 2022 los grandes cambios en el lugar de trabajo inducidos por la pandemia que hemos visto en los últimos dos años. Dice que los empleados se dividirán en tres grupos distintos:
1. Empleados que no pueden trabajar desde casa (50 por ciento).
Primero, Bloom dice que alrededor del 50 por ciento de todos los empleados simplemente no podrán trabajar desde casa. Tendrán que ir a una oficina u otro lugar de trabajo.
Si tiene un negocio que involucra venta minorista, manufactura o atención médica, o la mayoría de los negocios de servicios, es muy probable que sus empleados entren en esta categoría.
Francamente, estos son en gran medida los trabajadores peor pagados, como escribió Bloom en del barón, resumiendo sus proyecciones. Además, están "a menudo enojados y molestos" porque tuvieron que seguir apareciendo en persona durante la pandemia, mientras que otros se saltearon sus viajes al trabajo y redujeron sus guardarropas de trabajo a una sola "camisa Zoom".
La mayoría de los empleadores se dan cuenta de que tendrán que pagar más a estos empleados y tal vez ofrecer cierta flexibilidad creativa para compensar la falta de capacidad para trabajar de forma remota. Por ejemplo, tal vez pueda mover a los empleados (si así lo desean) de un horario de trabajo de ocho horas, cinco días a la semana, a una semana laboral de 10 horas y cuatro días.
2. Empleados que pueden trabajar de forma remota, indefinidamente (10 por ciento).
La segunda categoría, que según Bloom representa alrededor del 10% de los trabajadores, son aquellos que pueden trabajar de forma remota para siempre. Pronostica que serán trabajadores que compartan tres características:
Primero, son altamente calificados y trabajan en roles de servicio. Los ejemplos que da incluyen soporte de TI, finanzas, nómina y publicación.
En segundo lugar, no vieron una reducción real en la productividad mientras trabajaban desde casa; de hecho, es posible que se hayan vuelto más productivos.
Finalmente, en su mayor parte, no son los trabajadores quienes tienen que gestionar o liderar grandes equipos.
Nota: Los empleados del estudio que Bloom y Liang realizaron hace unos años con la participación de la empresa de Liang entrarían en esta categoría.
3. Empleados que trabajarán en un modelo híbrido: algunos trabajan de forma remota, algunos en la oficina (40%).
Finalmente, Bloom dice que el 40 % restante de los trabajadores caerá en una categoría híbrida: aquellos trabajadores que pueden hacer una parte significativa de su trabajo de forma remota, pero que aún necesitarán estar de guardia para una parte estructurada, confiable y significativa de su trabajo. . hora.
Bloom los ve trabajando quizás tres días a la semana en la oficina y dos de forma remota o desde casa. Las características comunes de estos empleados incluyen:
Profesionales y ejecutivos con títulos y títulos universitarios.
Trabajadores que necesitan liderar equipos o ser parte de equipos, y "que necesitan contacto cara a cara para ser productivos", como él dice.
Pero también, trabajadores que han llegado a apreciar la ventaja de tener al menos una parte importante de su semana para trabajar desde casa, disfrutando así de menos desplazamientos y "tiempos de tranquilidad".
En resumen, disfrutan de esta libertad y es probable que la exijan o al menos busquen trabajos que la ofrezcan.
¿Qué otros cambios?
Ahora, si alrededor del 50 por ciento de la fuerza laboral de EE. UU. va a trabajar desde casa o trabajar en un modelo híbrido a largo plazo, puede comenzar a imaginar los efectos de segundo y tercer orden que esto podría tener en muchos de nuestra sociedad. .
Por un lado, como señala Bloom, ya estamos viendo un "efecto dona" en el sector inmobiliario en el que los trabajadores híbridos se trasladan del centro de las ciudades y los suburbios cercanos a las zonas más exurbanas que los rodean.
Están dispuestos a soportar un viaje más largo (solo dos o tres días a la semana), si eso significa una casa y un jardín más grandes, por ejemplo.
Los verdaderos teletrabajadores, por cierto, pueden moverse donde quieran. Ya estamos viendo más estados rurales como Vermont, Virginia y Oklahoma que ofrecen incentivos financieros a los trabajadores remotos que considerarán mudarse allí (y traer sus trabajos, poder adquisitivo y dinero, dinero de los contribuyentes).
Diablos, incluso los países extranjeros han renunciado a los requisitos de visa para trabajadores remotos. ¿Quieres vivir en Barbados, Bermudas o Costa Rica, por ejemplo? Todos tienen programas.
Trabajar desde casa seguirá siendo un gran negocio en sí mismo: la tecnología, la cultura y las mejores prácticas serán grandes oportunidades de crecimiento.
En cuanto a las oficinas en sí, bueno, lamento decir que las oficinas abiertas son ahora la verdadera ola del futuro. Simplemente es mucho más difícil justificar el espacio de oficina privado para personas que solo lo usarán el 50% del tiempo.
Además, si el objetivo de tener personas en la oficina es mejorar la comunicación y el trabajo en equipo, creo que escuchamos mucho sobre no dejar literalmente paredes entre ellos.
First, Bloom says about 50 percent of all employees simply won't be able to work from home. They'll have to come to an office or other workplace.
n
If you're running a business that involves retail, or manufacturing, or healthcare -- or most service businesses -- chances are that your employees will fall into this category.
n
Frankly, these are largely the lowest-paid workers, as Bloom wrote in Baron's, summarizing his projections. Moreover, they're "often angry and upset" that they've had to keep showing up in-person, during the pandemic, while others skipped their commutes and pared their work wardrobes down to a single "Zoom shirt."
n
Most employers realize they'll have to pay these employees more and perhaps offer some creative flexibility to make up for the lack of ability to work remotely. As an example, maybe you can move employees (if they want) from an eight-hour, five-day-a-week work schedule to a 10-hour, four-day workweek.
n
2. Employees who can work remotely, indefinitely (10 percent).
n
The second category, which Bloom estimates works out to about 10 percent of workers, are those who can work remotely for good. He predicts that these will be workers who share three characteristics:
n
t
First, they're highly skilled and working in service roles. The examples he gives include IT support, finance, payroll, and editing.

t

Second, they haven't seen any real reduction in productivity while working from home; in fact, they may have become more productive.

t

Finally, for the most part, they're not the workers who have to manage or lead big teams.
n
Worth noting: the employees in the study that Bloom and Liang did a few years ago involving Liang's company would fall into this category.
n
3. Employees who will work under a hybrid model: some remote work, some in-office (40 percent).
n
Finally, Bloom says that the remaining 40 percent of workers will fall into a hybrid category: These workers who can do a significant amount of their work remotely, but will still need to be in office for some structured, reliable, and significant part of their time.
n
Bloom pegs them as working perhaps three days out of the average week in the office, and two remotely or at home. These employees' shared characteristics include:
n
t
Professionals and executives who have university degrees and credentials.

t

Workers who either have to lead teams or who are part of teams, and "who need face-to-face contact to be productive," as he puts it.

t

But also, workers who have come to value the benefit of having at least some significant chunk of their week to work from home, thus enjoying fewer commutes and "quiet time."
n
In short, they enjoy this freedom and are likely to demand it or at least seek out jobs that offer it.
n
What other changes?
n
Now, if roughly 50 percent of the U.S. workforce is either going to work from home or work in a hybrid model for the long-term, you can begin to imagine the second-and third-order effects this could have on a lot of our society.
n
For one thing, as Bloom points out, we're already seeing a "donut effect" in real estate in which hybrid workers are leaving city centers and close-in suburbs for the more exurban areas around them.
n
They're willing to endure a longer commute (it's only two or three days a week), if it means a bigger house and yard, for example.
n
True remote workers, for that matter, can relocate anywhere they want. Already, we're seeing more rural states like Vermont, Virginia, and Oklahoma offering financial incentives to remote workers who will consider moving there (and bringing their jobs, spending power, and tax dollars).
n
Heck, even foreign countries have been waiving visa requirements for remote workers. Want to live in Barbados, Bermuda, or Costa Rica, for example? They all have programs.
n
Working from home is going to continue to be a big business in and of itself: technology, culture, and best practices will be big opportunities for growth.
n
As for offices themselves, well, I'm sorry to say that open offices are now the true wave of the future. It's simply a lot harder to justify private office spaces for people who will only use them 50 percent of the time.
n
Plus, if the whole point of having people in the office is to improve communication and teamwork, I think hear a lot of talk about not letting there literally be walls between them.
","inc_code_only_text":null,"inc_pubdate":"2022-01-08 00:30:00","inc_promo_date":"2022-01-08 00:30:00","inc_custom_pubdate":null,"inc_feature_image_override":"","inc_feature_image_background_color_override":null,"inc_show_feature_imageflag":true,"inc_feature_image_style":"pano","inc_image_caption_override":null,"inc_autid":0,"inc_typid":1,"inc_staid":7,"inc_serid":0,"inc_prtid":0,"inc_activeflag":true,"inc_copyeditedflag":false,"inc_flag_for_reviewflag":false,"inc_lock_articleflag":false,"inc_react_displayflag":true,"inc_filelocation":"bill-murphy-jr/a-stanford-economist-who-studiesremote-work-says-half-of-allworkers-will-make-thisbig-change-in2022.html","inc_override_url":null,"inc_hide_article_sidebarflag":false,"inc_custom_sidebar":null,"inc_show_read_moreflag":true,"inc_display_video_at_bottomflag":false,"inc_autoplay_videoflag":true,"inc_full_width_read_moreflag":false,"inc_custom_footer":null,"inc_custom_teaser":null,"inc_hide_video_prerollflag":false,"inc_custom_css":null,"inc_custom_javascript":null,"inc_canonical_url":null,"inc_meta_keywords":"stanford, nicholas bloom, work from home, working from home, pandemic work, remote work, back to office","inc_column_name_override":null,"inc_newsworthyflag":true,"inc_notepad":null,"inc_track_changesflag":false,"inc_cta_text":null,"inc_cta_url":null,"time_updated":"2022-01-08 07:58:12","channels":[{"id":53,"cnl_name":"Working From Home","cnl_filelocation":"setting-up-a-home-office","cnl_featuretype":"None","cnl_custom_color":null,"cnl_calculated_color":"F7CE00","cnl_contributor_accessflag":false,"cnl_custom_article_footer":null,"cnl_global_nav_background_color":null,"cnl_global_nav_background_gradient_start":null,"cnl_global_nav_background_gradient_end":null,"cnl_iflid":0,"sortorder":null},{"id":4,"cnl_name":"Lead","cnl_filelocation":"lead","cnl_featuretype":"None","cnl_custom_color":"009CD8","cnl_calculated_color":"F7CE00","cnl_contributor_accessflag":true,"cnl_custom_article_footer":"Get Inc.'s top posts straight to your inbox. Sign up here and you'll receive Today's Must Reads before each day is done.","cnl_global_nav_background_color":null,"cnl_global_nav_background_gradient_start":null,"cnl_global_nav_background_gradient_end":null,"cnl_iflid":0,"sortorder":1},{"id":171,"cnl_name":"Work-Life Balance","cnl_filelocation":"work-life-balance","cnl_featuretype":"None","cnl_custom_color":null,"cnl_calculated_color":"FB433A","cnl_contributor_accessflag":true,"cnl_custom_article_footer":null,"cnl_global_nav_background_color":null,"cnl_global_nav_background_gradient_start":null,"cnl_global_nav_background_gradient_end":null,"cnl_iflid":0,"sortorder":2},{"id":374,"cnl_name":"Wire","cnl_filelocation":"wire","cnl_featuretype":null,"cnl_custom_color":null,"cnl_calculated_color":null,"cnl_contributor_accessflag":false,"cnl_custom_article_footer":null,"cnl_global_nav_background_color":null,"cnl_global_nav_background_gradient_start":null,"cnl_global_nav_background_gradient_end":null,"cnl_iflid":0,"sortorder":3}],"categories":[],"primarychannelarray":null,"authors":[{"id":3275,"aut_name":"Bill Murphy Jr.","aut_usrid":428030,"aut_base_filelocation":"bill-murphy-jr","aut_imgid":51492,"aut_twitter_id":"BillMurphyJr","aut_title":"www.billmurphyjr.com","aut_blurb":"Bill Murphy Jr. is the founder of Understandably.com and a contributing editor at Inc.com. Contact and bio at www.billmurphyjr.com.","aut_footer_blurb":"Bill Murphy Jr. is a contributing editor at Inc.com. Contact and bio at www.billmurphyjr.com.","aut_column_name":"Action Required","aut_atyid":2,"aut_newsletter_location":"http://www.billmurphyjr.com/","authorimage":"https://www.incimages.com/uploaded_files/image/100x100/Bill-Murphy_51492.png","sortorder":null,"aut_custom_scripts":"","typeName":"Columnist"}],"images":[{"id":491835,"sortorder":null}],"inlineimages":[],"photoEssaySlides":null,"readMoreArticles":null,"slideshows":[],"videos":[],"bzwidgets":null,"relatedarticles":null,"comparisongrids":[],"products":[],"keys":["Working From Home","Lead","Work-Life Balance","Wire","Bill Murphy Jr.","Columnist"],"meta_description":"It will be nice to feel settled, won't it?","brandview":null,"internationalversion":[],"imagemodels":[{"id":491835,"img_foreignkey":null,"img_gettyflag":false,"img_reusableflag":false,"img_rightsflag":false,"img_usrid":0,"img_pan_crop":null,"img_tags":null,"img_reference_name":"GettyImages-1358060862","img_caption":null,"img_custom_credit":"Getty Images","img_bucketref":null,"img_panoramicref":"GettyImages-1358060862.jpg","img_super_panoramicref":null,"img_tile_override_imageref":null,"img_skyscraperref":null,"img_gallery_imageref":null,"credit":"Getty Images","sizes":{"panoramic":{"original":"https://img-cdn.inc.com/image/upload/images/panoramic/GettyImages-1358060862_491835_e5muge.jpg","1920x1080":"https://img-cdn.inc.com/image/upload/w_1920,h_1080,c_fill/images/panoramic/GettyImages-1358060862_491835_e5muge.jpg","1024x576":"https://img-cdn.inc.com/image/upload/w_1024,h_576,c_fill/images/panoramic/GettyImages-1358060862_491835_e5muge.jpg","1230x1672":"https://img-cdn.inc.com/image/upload/w_1230,h_1672,c_fill/images/panoramic/GettyImages-1358060862_491835_e5muge.jpg","1940x900":"https://img-cdn.inc.com/image/upload/w_1940,h_900,c_fill/images/panoramic/GettyImages-1358060862_491835_e5muge.jpg","1270x734":"https://img-cdn.inc.com/image/upload/w_1270,h_734,c_fill/images/panoramic/GettyImages-1358060862_491835_e5muge.jpg","0x734":"https://img-cdn.inc.com/image/upload/w_1,h_734,c_fill/images/panoramic/GettyImages-1358060862_491835_e5muge.jpg","1150x540":"https://img-cdn.inc.com/image/upload/w_1150,h_540,c_fill/images/panoramic/GettyImages-1358060862_491835_e5muge.jpg","970x450":"https://img-cdn.inc.com/image/upload/w_970,h_450,c_fill/images/panoramic/GettyImages-1358060862_491835_e5muge.jpg","600x600":"https://img-cdn.inc.com/image/upload/w_600,h_600,c_fill/images/panoramic/GettyImages-1358060862_491835_e5muge.jpg","640x290":"https://img-cdn.inc.com/image/upload/w_640,h_290,c_fill/images/panoramic/GettyImages-1358060862_491835_e5muge.jpg","635x367":"https://img-cdn.inc.com/image/upload/w_635,h_367,c_fill/images/panoramic/GettyImages-1358060862_491835_e5muge.jpg","0x367":"https://img-cdn.inc.com/image/upload/w_1,h_367,c_fill/images/panoramic/GettyImages-1358060862_491835_e5muge.jpg","575x270":"https://img-cdn.inc.com/image/upload/w_575,h_270,c_fill/images/panoramic/GettyImages-1358060862_491835_e5muge.jpg","385x240":"https://img-cdn.inc.com/image/upload/w_385,h_240,c_fill/images/panoramic/GettyImages-1358060862_491835_e5muge.jpg","336x336":"https://img-cdn.inc.com/image/upload/w_336,h_336,c_fill/images/panoramic/GettyImages-1358060862_491835_e5muge.jpg","300x520":"https://img-cdn.inc.com/image/upload/w_300,h_520,c_fill/images/panoramic/GettyImages-1358060862_491835_e5muge.jpg","300x200":"https://img-cdn.inc.com/image/upload/w_300,h_200,c_fill/images/panoramic/GettyImages-1358060862_491835_e5muge.jpg","284x160":"https://img-cdn.inc.com/image/upload/w_284,h_160,c_fill/images/panoramic/GettyImages-1358060862_491835_e5muge.jpg","155x90":"https://img-cdn.inc.com/image/upload/w_155,h_90,c_fill/images/panoramic/GettyImages-1358060862_491835_e5muge.jpg","100x100":"https://img-cdn.inc.com/image/upload/w_100,h_100,c_fill/images/panoramic/GettyImages-1358060862_491835_e5muge.jpg","50x50":"https://img-cdn.inc.com/image/upload/w_50,h_50,c_fill/images/panoramic/GettyImages-1358060862_491835_e5muge.jpg"}}}],"formatted_text":"","adinfo":{"c_type":"article","showlogo":true,"cms":"inc293243","video":"no","aut":["bill-murphy-jr"],"channelArray":{"topid":"53","topfilelocation":"setting__up__a__home__office","primary":["startup","lead","lead","lead"],"primaryFilelocation":["startup","lead","lead","lead"],"primaryname":["Startup","Lead","Lead","Lead"],"sub":["homebased","wire","hrbenefits"],"subFilelocation":["home-based-business","wire","benefits-hr"],"subname":["Home-Based Business","Wire","HR/Benefits"],"subsub":["homeoffice","people"],"subsubFilelocation":["setting-up-a-home-office","people"],"subsubname":["Working From Home","People"]},"adzone":"/4160/mv.inc/startup/homebased/homeoffice"},"seriesname":null,"editorname":null,"commentcount":null,"inc5000companies":[],"inc5000list":{"id":null,"ifl_list":null,"ifl_year":null,"ifl_custom_data_description":null,"ifl_filelocation":null,"ifl_sharetext":null,"ifl_data_endpoint":null,"ifl_columns":null,"ifl_column_custom_names":null,"ifl_filters_per_row":null,"ifl_rows_per_page":null,"ifl_filter_columns":null,"ifl_filter_sorts":null,"ifl_permanently_hidden_columns":null,"ifl_extra_large_hidden_columns":null,"ifl_large_hidden_columns":null,"ifl_medium_hidden_columns":null,"ifl_small_hidden_columns":null,"ifl_extra_small_hidden_columns":null,"ifl_currency":null,"ifl_enable_accent_rule_topflag":false,"ifl_enable_accent_rule_bottomflag":false,"ifl_table_accent_rule_color":null,"ifl_table_header_background_color":null,"ifl_table_rank_color":null,"ifl_table_header_text_color":null,"ifl_table_row_stripe_color":null,"ifl_enable_filterflag":false,"ifl_filter_background_color":null,"ifl_filter_dropdown_border_color":null,"ifl_filter_dropdown_text_color":null,"ifl_enable_pagination_topflag":false,"ifl_enable_pagination_bottomflag":false,"ifl_pagination_bar_color":null,"ifl_filter_reset_button_color":null,"ifl_filter_reset_button_border_color":null,"ifl_methodology":null,"ifl_pubdate":null,"ifl_default_sort":null,"companylist":null,"companylist_year":null},"companies":[],"buyerzonewidgets":[],"photoEssaySlideModels":null,"custom_article_footer":null,"ser_footer_blurb":null,"dayssincepubdate":null,"trackingpixel":"<!-- Author Facebook Pixel Code --><script>!function(f,b,e,v,n,t,s){if(f.fbq)return;n=f.fbq=function(){n.callMethod?n.callMethod.apply(n,arguments):n.queue.push(arguments)};if(!f._fbq)f._fbq=n;n.push=n;n.loaded=!0;n.version='2.0';n.queue=[];t=b.createElement(e);t.async=!0;t.src=v;s=b.getElementsByTagName(e)[0];s.parentNode.insertBefore(t,s)}(window,document,'script','https://connect.facebook.net/en_US/fbevents.js');fbq('init', '465833680293850');fbq('track', "PageView");</script><!-- End Facebook Pixel Code --><script> (function(i,s,o,g,r,a,m){i['GoogleAnalyticsObject']=r;i[r]=i[r]||function(){ (i[r].q=i[r].q||[]).push(arguments)},i[r].l=1*new Date();a=s.createElement(o), m=s.getElementsByTagName(o)[0];a.async=1;a.src=g;m.parentNode.insertBefore(a,m) })(window,document,'script','https://www.google-analytics.com/analytics.js','ga'); ga('create', 'UA-18200193-1', 'auto'); ga('send', 'pageview');</script>rnrnrnrnrn","promotions":null,"channelCustomFooter":{"cnl_id":"1","cnl_footer":"Inc. helps entrepreneurs change the world. Get the advice you need to start, grow, and lead your business today. Subscribe here for unlimited access."},"lists":[],"rawDate":"Sat, 08 Jan 2022 00:30:00 -0500","paragraphCount":23,"inline_script_tags":[]},"recirc":{"articles":[]}}],"isFetching":false,"isFetched":true,"error":null},"events":{"events":[],"isFetching":false,"isFetched":false,"error":null},"magazine":{"magazine":{},"isFetching":false,"isFetched":false,"error":null},"editPackage":{"editPackage":{},"isFetching":false,"isFetched":false,"error":null},"quoteCollection":{"quoteCollection":{},"isFetching":false,"isFetched":false,"error":null},"applyPage":{"applypage":{},"isFetching":false,"isFetched":false,"error":null},"podcast":{"podcast":[],"isFetching":false,"isFetched":false,"error":null},"navMenu":{"sidebar":[],"nav":[],"categories":[],"subscribe":{},"social":[],"help":[],"alternates":[],"isFetching":false,"isFetched":false,"error":null},"promotions":{"promotions":{},"isFetching":false,"isFetched":false,"error":null},"incmasters":{"incmasters":[],"isFetching":false,"isFetched":false,"error":null}};
"Jugador incondicional. Evangelista del alcohol. Erudito televisivo incurable. Pensador certificado".